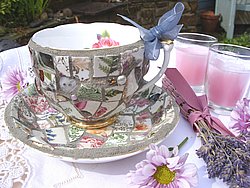 I work from a previously water-powered mill in the shadow of Pendle Hill. In my workshop I create unusual mosaic pieces using a selection of vintage materials. Pretty china, buttons and beads are some of the treasures incorporated into my work. Pieces are often inspired by my finds and each one is unique. Hearts feature heavily in my work and are always a popular choice for so many occasions. I have found my own distintive style which has evolved over time and is still an ongoing process.
I love working with recycled materials and love to find something unusual which sparks off an idea for a new clock or mirror for example.
My work is ideal for those memorable special occasions when you need that special something that no one else will have.