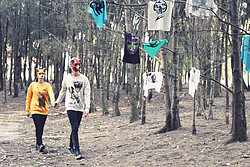 At Monster Threads you'll find edgy, exciting and original clothing designs. Our t-shirts feature imaginative and quirky illustrations from artists around the world. They're available across a range of high quality garments including tees and t-shirts, vests, singlets and hoodies...
Monster Threads isn't fashion-led or trend-dependant. We prefer to focus on creating fun, striking designs to make you stand out from the crowd. We are constantly working towards creating exiting and original collections season after season.
Our brilliant team of illustrators let their imagination run wild to create these unique works of art. We then work closely with our illustrators to adapt and transform their designs into Monster Threads' t-shirts, vests, singlets and hoodies especially for you.