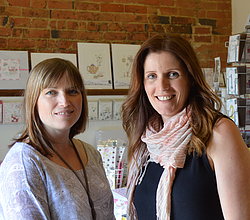 We launched Molly Mae in 2009, to create cards using original images, designed around hand drawings and incorporating quirky and retro patterns in contemporary colours.
Stacey, after graduating from a design degree had a coffee shop where she sold her hand made cards, while Jude worked as a graphic designer at Great Ormond Street Hospital for Children, designing booklets, posters and digital media. We met in 2001 and became friends, both being passionate about design and we teamed up to launch Molly Mae. Initially, we juggled our previous occupations, Molly Mae and family life, having five children between us, but after a couple of years we decided to work at Molly Mae full time.
After working from home we now have a studio, on a farm in rural Leicestershire, where our small team of working Mums are based.
People often ask us who Molly Mae is, she is a combination of our daughters names. 'Molly' is Stacey's daughter, now aged 8 and 'Rosa Mae' is Jude's daughter who is now 9.
With strong eco-credentials we use local suppliers to reduce our carbon footprint. We only print on high quality FSC (Forest Stewardship Council) certified card.
Molly Mae specialse in beautiful, design-led greeting cards for all occasions. We have something for everyone, a card for every occasion and every relation. The cards are finished with sparkly glitter and some are hand finished with bows, buttons or diamontes.