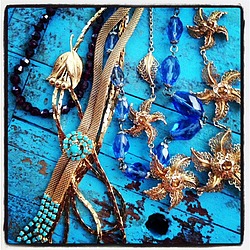 Molly & Pearl specialises in beautiful jewellery, fashion accessories and gifts, making it the perfect place to find the perfect gift or a special treat for you!
The Molly & Pearl story started in 2013 by Nadine Higgins after she began sourcing and personalising products to make unique gifts for family and friends and we have been growing ever since. Based from our design studio in Buckinghamshire, Molly & Pearl is named after Nadine's great aunty as a nod to the vintage floral prints and design elements that you can find in many of our pieces.
The Molly & Pearl collection is eclectic and stylish with items that look great teamed together. Our jewellery collection ranges from simple earrings to bold statement necklaces, which look great worn with one of our floral scarves.
You can get in touch with us at any time using the "Ask the seller a question" button and we will get back to you as soon as we can. Thanks for stopping by and we hope you love our products as much as we do.
Enjoy! Molly & Pearl, x