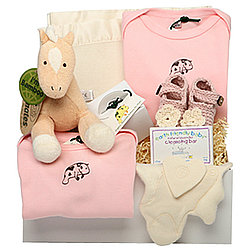 Molliemoo is run by Identical twin sisters, Anna Taylor and Cathy Martin who both have children and are passionate about providing new baby gifts with the earth in mind
Molliemoo offers a luxurious collection of organic and eco-friendly new baby gift boxes and baby gift bags.
All baby gift boxes are filled with beautiful gifts, lovingly wrapped and placed in a beautiful 100% recycled signature Molliemoo keepsake box that can be kept for years to come. A beautiful and memorable gift that is ideal for the arrival of a newborn baby, mum-to-be, maternity leaving present, baby shower gift, christening/baby naming, and corporate gifts.
All baby gift bags are filled with beautiful organic clothing, lovingly wrapped in tissue paper and tied with raffia and you can add a personal message.
As mothers ourselves, we have spent a considerable time sourcing unique new baby gifts to be sold in our baby gift boxes and baby gift bags. All newborn presents are either made purely from natural materials (no pesticides, chemicals or artificial colours etc) or are eco-friendly and are made from either recycled or sustainable materials, so best for baby, mum to be and the planet.