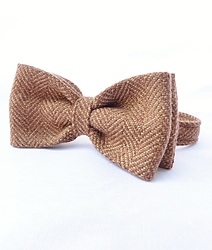 Welcome to Moaning Minnie Designs.
My passion for something unique and gorgeous fabrics are the inspiration behind Moaning Minnie Designs. Here you will find a unique range of men's and women's fashion accessories including bow ties, ties, hats and neckwarmers. My products are designed and handmade in my studio right here in Yorkshire where I have been working as an independent designer-maker for over seven years. The fabrics I use are the finest quality Irish and British wool tweeds, English cotton velvets, cotton corduroy and Irish linen fabrics. All materials used are sourced from small independent businesses where ever possible. The yarns I use for my handknitted products are all natural fibres and designer brands ensuring the product you receive is of the best quality available.
My products are not just for the individual, I also specialise in weddings. With this in mind should you require a certain colour or fabric that is not available in my store I am always happy to work with you to achieve exactly what you want.