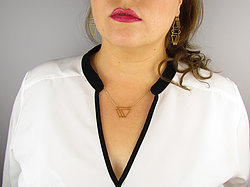 Misskukie jewellery is colourful, fresh and exciting, a mix of designs for all styles and attitudes. We design and create jewellery for the everyday woman out there, the mother, the wife, the boss or employee, the friend and bride to be.
Our jewellery is handmade in the heart of Sussex in a tiny studio. We are proud of our ever changing and growing collection and welcome constructive customer feedback. We pride ourselfs in providing high standard customer service, so if you have any questions or requests, please don't hesitate to get in touch with us.
Browse our assortment of delicate and petite jewellery to modern minimalist designs. There is truly a gift here for anyone including a treat for yourself. All Misskukie jewellery comes beautifully gift wrapped with care and attention.