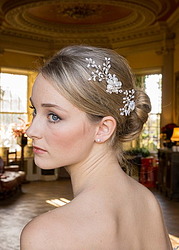 Award Winning Gillian Million Ltd was set up by Gillian Million in 2002. Gillian is passionate about her work and designs for brides internationally.
'It is so exciting meeting each and every new bride. We sit together with fabric swatches, magazine cuttings and my portfolio to hand and then we make our way to my studio which is every girls dream; filled with vintage jewels and treasures and years and years of bespoke creations only to find something unique and individual for every bride'.
We are delighted to put together a collection of inspired headdresses and jewellery which have proved extremely popular with our brides and have them available for notonthehighstreet.
Gillian Million creates the most beautiful bridal heirlooms to be treasured and admired. Antique pearls and vintage jewels are incorporated into something new, resulting in stunning hair adornments and jewellery both theatrically flamboyant and subtly understated. All jewellery and headdresses can be redesigned after the wedding to wear as a special piece of jewellery in memory of the wedding day. Gillian Million can interpret each bride's designs with its bespoke service at the London Shop by appointment.