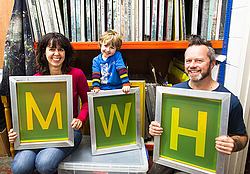 Mild West Heroes is a small Bristol based print and design group, specialising in unique and ethically produced hand-printed t-shirts.
The idea was born seven years ago on a bank holiday weekend, when Mark and Jude Lawson were sitting in their caravan looking out over beautiful Cornish countryside. They decided to print t-shirts that would promote only West Country artists and have a set-up that would be green and fair for all – the artists, the printer, the t-shirt manufacturer and the cotton grower.
They print all of the designs themselves using Soil Association certified water-based inks . T-shirts are all ethically sourced, carrying the Fair Wear Foundation certification (which is very similar to Fairtrade but dedicated to the needs of the garment industry.) plus they use organic/low carbon cotton and bamboo/organic cotton mix tees. Finally the artists they collaborate with retain all rights to their designs and all proceeds are shared equally.