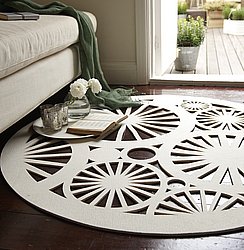 Award winning designer Michelle Mason launched her homeware collection in 2006 and immediately attracted press recognition with her colourful and whimsical surface patterns. Michelle's range now includes kitchenware, ceramics and rugs and she has recently collaborated with leading UK retailers, art institutions and charities to create a variety of design-led homewares and illustrated giftwares and accessories.
Michelle's unique Stella design wool rug was shortlisted for the Homes & Gardens Classic Design Award, 2009, and the Northern Design Awards, 2010 and 2012. She continues to use only UK manufacture and environmentally sound materials.
"We've absolutely fallen in love with the Stella rug from Brit design star Michelle Mason" Grazia magazine.
"Michelle Mason's merino-wool felt creations are expected to cause a stir." Katrina Burroughs, Sunday Times.