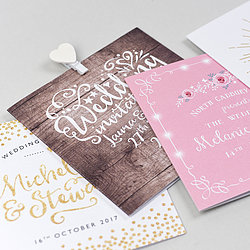 Hello and welcome to Michelle Fiedler design! If you're looking for personalised and bespoke wedding stationery and invitations, I'd love to be your designer. I've spent many years in the design world and with my passion for perfection, gorgeous graphics and typography, I can create everything you need for your special day.
All invitations and stationery are fully personalised and lovingly created with attention to detail from my home studio in Hertfordshire. I work closely with professional printers to ensure a high quality print finish on a selection of beautiful boards.
As a professional graphic designer for over 15 years, I have worked with a wide range of big brands and small businesses. My wedding stationery design started out as a hobby and since my own wedding in 2011 has developed into a little business of its own!