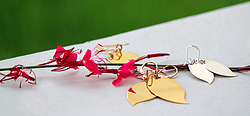 Designer Mia Lia creates exuberant, stylish hand made fashion jewellery with a bohemian touch and meaning behind each piece to be loved and treasured.
A real emphasis which has inspired the collections to date is a love of all things old and worn. Mia Lia seeks special antique pieces to give her inspiration along with her travels to bring new and forthcoming ideas to her collections.
Mia Lia has fast become recognised as a distinctive unique jewellery designer after being featured in Vogue, Grazia, Marie Claire, Instyle and Red magazine amongst many other publications and finding its way to many stores and specialist boutiques all over the world.