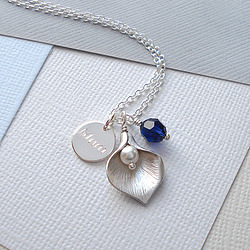 Welcome to Mia Belle Jewellery. I'm Belinda (Belle), I'm originally from Australia and have lived in the UK for over 12 years. My creativity started when I was a young girl. Growing up I was surrounded with an array of creative opportunities thanks to my Mother who is a Florist & Milliner. In my teens my mother moved her business towards bridal wear, making tiaras and veils embelished with crystals & pearls. This is when I became involved in jewellery making.
I've been creating & making jewellery professionally for over 15 years. In 2008 I started Mia Belle on my own. Since then Mia Belle has grown to be a family based business with my husband Simon & and sister-in-law Stephanie joining in 2012. In 2013 we were joined by a few of our most talented friends who now ensure all orders are made and sent with love and care.
All Mia Belle jewellery is either handmade in our Staffordshire studio or personally selected by me for it's unique design. We engrave all our personalised jewellery in house so we have greater control over the finished product and we can have your order delivered to you super quick.
All Mia Belle pieces of jewellery are beautifully gift wrapped and delivered free of charge. If you have any questions please do get in touch.
Belinda & Simon x