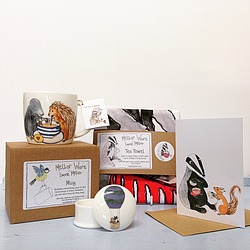 My name is Lianne Mellor and I am the designer and illustrator of "useful things that tell stories" called Mellor Ware. As I was growing up on the Wirral, my childhood was filled with making dens, drawing pictures and listening to wild and exciting stories. I guess this is what led to my overactive imagination, creating narratives and giving life to the things that surrounded me, from the birds in the garden, to the fish on the counter at the local market.
My influences are deeply rooted in the quintessentially British pastimes of afternoon teas, garden parties and quirky dances. The illustrations are inspired by the idea that when our backs are turned, foxes, birds, squirrels, badgers and hedgehogs come out in force to act out these very English activities. The simplicity of the watercolours allows the viewer to create their own narrative for the characters in a collection that is both timeless and contemporary.
The range encompasses gift ideas for all occasions including personalised mugs, tea towels, trinket boxes, childrens sets & greeting cards!
Wherever possible, my products are 100% made in UK, this includes the mugs & trinket boxes which are still hand cast in Stoke, Tea Towels which are made & sewn in England, and cards which are printed in Sheffield.
I get great satisfaction from watching people's faces as they see my illustrations for the first time, it's as if I can see them creating their own stories and scenarios for each of the characters. That's the beauty of an illustration, the story telling is only limited by your own imagination!