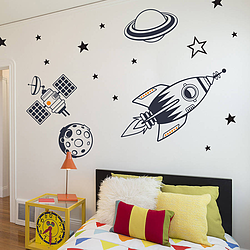 Wall stickers, wall quotes and wall art designer-manufacturers. Now with well over 20,000 satisfied customers, Making Statements has been happily supplying home owners with fantastic new and unique ways to decorate their homes for the last 7 years...
We love what we do. With a creative passion for design and typography, our lead designer has a rare background as a fully trained traditional signwriter. As our products are all designed by experienced artists and graphic designers, you can guarantee a product of the highest quality.
At Making Statements, we value the customer above all else and will strive to make all purchases as quick, pleasant and as pain free as possible. We take a no quibble approach to customer service and have an extensive track record with an emphasis on customer satisfaction.
We're always looking to grow our wall stickers catalogue, so if you have any ideas or queries then please don't hesitate to get in touch, we'd love to hear from you.