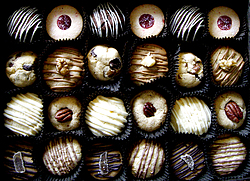 The perfect gift for biscuit loving foodies!
We seriously love biscuits, baking and eating them! We hand make both traditional (ginger, lemon, coconut) and quirky (chilli choc, coffee and walnut) flavours. We use quality locally sourced natural ingredients including organic free-range eggs, real butter, premium flour, Belgian chocolate and freshly candied real fruits. All our biscuits are suitable for vegetarians and we don't use any artificial preservatives, colourings or flavourings.
Unique and made to order especially for you we specialise in gourmet gift boxes and personalised wedding, anniversary, birthday and baby shower party favours, with seasonal options also available throughout the year for Valentines, Mother's Day, Father's Day, Easter and Christmas.
Gourmet Gift boxes come with a personalised gift card or label, making it even more special for the lucky person receiving it!
Our mission is simple: Make great biscuits with great ingredients and bring this simple pleasure to as many folk as possible. Let's face it, you can't beat a nice cuppa with a biscuit or two!