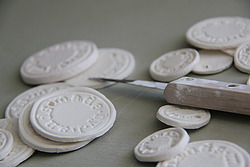 made by hands is a growing ceramics business based in the heart of the Cotswolds, specialising in unusual handmade ceramics.
made by hands is owned and run by Mouse Martin. The business has a comprehensive range of established products; beautiful, unique items in exciting designs, all made by hand!
Mouse loves to hand-mould and hand-slip cast. Her style is simple and clean, yet beautiful and usable. The pieces are contemporary and strong and would suit any home, from a country kitchen to an urban modern space.
The dinosaur range is hand-moulded from porcelain and then the ridges are imprinted with a light bulb with the exception of the jug which is a hand-slip cast. The print block range is made from stoneware clay that has been hand-rolled and then imprinted with antique Indian textile blocks. The decoupage range is an exciting new design using lettering or hand-drawn images, which is transferred using a third firing which melts the image onto the clay.
Every piece is hand-crafted and made lovingly, so they are all unique, therefore may vary slightly from the image shown.