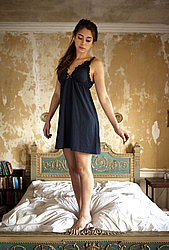 Luva Huva (pronounced Lover Huva) produces beautiful, handmade lingerie using ethically sourced fabrics which celebrate elegant feminine style whilst also providing a more sustainable and environmentally friendly alternative to the often wasteful fashion industry. All products are hand made in the UK.
The fabrics used in the range include 100% organic cotton, bamboo, and soy fabrics, along with end of line remnants, and vintage lace. The results are miles away from the dreary, uncomfortable clothing that has unfortunately become associated with natural fabrics.
The Spring 2014 collection includes knickers, boxers, babydolls, nighties, slips and loungepants. All of the lingerie items are finished with frills and delicate bows in a variety of pastel and neutral shades.
About Joanna Ketterer
Joanna has always drawn inspiration from from the rustic Sufolk countryside where she spent her childhood and the colours of the collections often mirror the hues found in an English country garden.
With a keen interest in textiles, Joanna had a feeling that there was a niche in the market for pretty, feminine lingerie. Once she happened upon some great fabric in a market and thought 'that would make a great pair of knickers'. She decided to buy some and created her first piece of lingerie. It was on that day that Luva Huva was born.