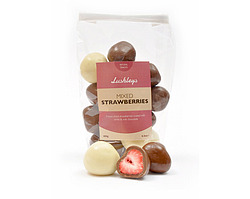 Hello and welcome to our shop! We are a small family run business in London. We started Lushleys when friends and family repeatedly asked us not to turn up without more of the chocolates we had brought along with us the last time around.
We sell quality chocolates and snacks that have high cocoa content. All raw ingredients are carefully selected to meet our high standards and our products contain many natural ingredients. We have three lines of products: Luxury Treats (a variety of lushious chocolates), Natural Snacks (chocolate covered berries and nuts) and Tasty Bites (snacks containing oats, nuts and berries).
Our products are not only a perfect gift for any occasion but also a wonderful treat for you! Have a chocolate moment... and share our passion for high quality treats!
Lushleys is a trading name of Lushleys Limited.