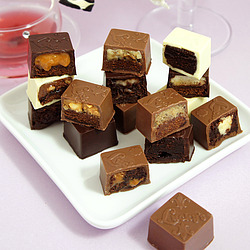 Once upon a time...
'Fairy Tale Gourmet' is an award-winning, London-based chocolate company who take inspiration from fairy tales to create the most outlandish gourmet creations. We create exclusive chocolate treats, all lovingly hand-made with the finest ingredients & only premium chocolate.
Discover our first collection inspired by Lewis Carroll's masterpiece "Alice in Wonderland" including the world's first chocolate filled with cake and other delightfully unusual creations, such as the Tweedle Twins cake-in-a-jar, and the Humpty Dumpty chocolate eggs with filled shell. From the famous Brothers Grimm's storybook we feature the 'Snow White Collection' which includes an assortment of filled chocolates in the shape and size of an apple. New for 2015 we are proud to announce a collection of products from Neverland. Our Peter Pan collection begins with the launch of "Twinkling Tinkerbell" edible chocolate sprinkle, watch out for more products coming soon!
Having received 3 Great Taste Awards in 2011 and 2012, we are proud to have been featured at Harrods, Selfridges and Harvey Nichols, as well as the Dean & Deluca chain in the Middle East and carefully selected delis in the UK and Europe.
We hope you enjoy our treats!