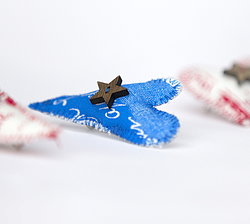 Do you still long to receive a handwritten letter through the post? I do,
I love a handwritten message, I love the idea of it but more importantly I love the look of it. The skill of a beautifully handwritten word is fast becoming a lost art to e-mailing and texting. I create prints from a time when handwriting was the only communication between people. I silk screen print my fabric which is inspired by genuine vintage postcards, diaries & stamps. Their wonderfully handwritten messages form the basis of my print designs and are hand made into contemporary fashion and interior accessories and stationary.
Everything is handmade. Each piece of fabric is screen printed by me using a silk screen process, some of the fabric is a solid colour, and sometimes it is a more subtle colour, so I cannot guarentee it'll be exactly the same as is pictured, if you would like to discuss this further or you are unsure about any of the items or would like to discuss a potential commission please 'ask seller a question' and I'd be delighted to answer your questions!
Transforming vintage letters into beautiful textiles.