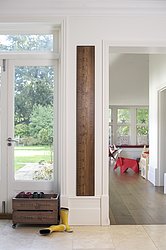 At Lovestruck Interiors we strive to create interesting and original pieces for the home that shriek individuality! Forget bleak, mass produced furniture and accessories and instead go for something that truly reflects your own personality and style.
The 'Kids Rule' wooden height charts do exactly that. These giant vintage style rulers not only look great in the three colours and three styles they are available in, but they can be used from toddlers right up to teenagedom as they stretch to 6 and a half foot; kids can even record the gradual shrinkage of their parents! Many of our other products such as our 'Crates On Skates', coat hooks, Giant Tape Measures, window boxes and planter trays can also be personalised for an original gift.
At Lovestruck Interiors we are passionate about design and originality which is why each of our pieces is made to order, and is an individual in its own right!