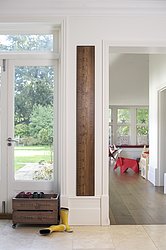 Lovestruck interiors was born out of desparate hunt for an original Christening gift for some delicious twins who looked like they were going to have it all.
"It needed to be unisex, it needed to be something functional and visual that everyone could enjoy and most of all it needed to be something that wasn't going to get put away and forgotten about for 30 years. A personalised height chart seemed to fit the bill but the endless giraffes that didnt even reach 6 foot left me feeling deflated. My love of wood and all things vintage inspired our wonderful 'Kids Rule' giant ruler height chart which has been tweaked several times over the years and now is, we think, simply perfect!"
The 'Kids Rule' wooden height charts not only look great in the three colours and three styles they are available in, but they can be used from toddlers right up to teenagedom as they stretch to 6 and a half foot; kids can even record the gradual shrinkage of their parents! Many of our other products such as our 'Crates On Skates', ruler coat hooks, giant tape measures, window boxes and planter trays can also be personalised for an original gift. We are proud to say that none of our items need to be squirreled away in a child's bedroom or nursery - these are fit for hallways and kitchens as not only are they functional but they look great.
The kitchen table business rapidly expanded to a breezy (cold!) garage, and is now very happily settled in a large studio with several recruits who share a genuine passion. At Lovestruck Interiors we strive to create and source interesting and original pieces for the home that shriek individuality - forget bleak, mass produced furniture and accessories and instead go for something that truly reflects your own personality and style.