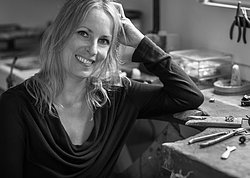 Lucy has always had a love of our British countryside, her long walks in the countryside are evident in her studio, which is full of old glass jars filled with seed heads, fallen leaves and dead insects.
From her Oxfordshire studio Lucy transforms the fragile forms into solid silver, creating precious wearable pieces that are timeless in design and enjoyed by all ages.
The silver is darkened to enhance the finest delicate details, each piece is hallmarked in Brimingham and comes in branded packaging.
Lucy won Editors Choice at the Country Living fair in London, confirming her as the leading designer for all those who love the natural world and our fabulous countryside.