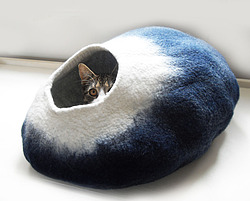 Welcome to my shop full of love for your feline friends, all products are handmade within the UK by myself with love and care. My products are made from 100% merino wool that has been hand felted and formed into the products you see, perfect for your cats and pets.
My items are great for all pets but are perfect for cats as they are naturally attracted by the lanolin wool odour. They will love to snuggle into their cave for a good sleep after a night out on the town!
I offer a range of sizes and colours so I am sure you will find something to fit yours and your cats needs.