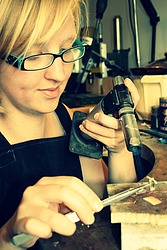 My name is Laura and I lovingly design and make everything you find in my shop. I graduated with a first class BA honours degree in Jewellery and Silversmithing, and I am now working from a tiny workshop at home, which is small but my favourite place to be.
Everything you find in my shop is dreamed up by me, designed by me, handmade by me and, more importantly, loved by me! I take great pride in what I do and will always go above and beyond to make sure my wonderful customers have something they cherish as much as I do.
All my Jewellery is solid silver and where appropriate is hallmarked and stamped with my personal makers mark.