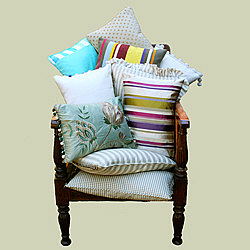 Louise Harris Interiors is a small Interior Design Company based in the lovely countryside of Rutland.
I design and create beautiful cushions from different fabrics and trimmings that hopefully you will love and want in your home.
I offer a bespoke cushion design service where I can design to a brief or make to the customer's scheme. Please e-mail me for further details: design@louiseharrisinteriors.co.uk
Please contact me directly for further details on my Interior Design service, from styling rooms to making and hanging curtains and blinds.
I hope you have enjoyed looking at my cushions as much as I have enjoyed designing them. My handmade cushions help to add the finishing touch to any room.
Thank you for visiting.
Louise