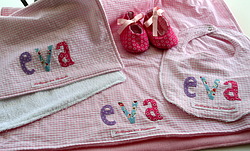 Lollipops and Flumpets is home to an eclectic mix of goodies - all handmade in England by me.
I only source small quantities of fabric, so there may be just one or two items in any design/fabric combo. Making these items extra special and unique. I also make a selection of personalised baby gifts too!
Lollipops and Flumpets was set up in October 2009 after being inspired by my two gorgeous children.
Keep checking for new and exciting items as I am creating new designs and pieces all the time, or at least as quickly as my sewing machine stitches and my two little tykes allow...