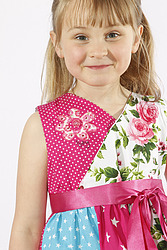 We are a happy family at Lola Smith, our workshop is crammed full of beautiful fabrics, colourful buttons and fabulous trimmings, which inspire us all to create and make individual gorgeous children's clothes and original home furnishings for you and your home.
Everything is handmade in beautiful Cornwall in our small family business. Most of our inspiration and ideas come from a mix of the wonderful place we live in, the seaside and countryside around us. We have time to listen to what you want which means you are part of our design process and it makes your gift to yourself or your loved ones truly unique and to be be treasured forever.
We hope you enjoy giving and recieving our items as much as we love making them.