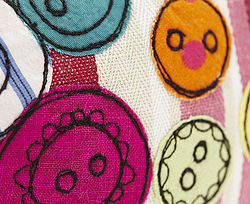 Lizzie Searle creates a range of free machine embroidered and appliqued items which include purses, pencil cases, brooches, hair slides and greetings cards. As well as practical items Lizzie creates beautiful embroidered and collaged pictures mostly based on the Norfolk Coast.
Lizzie Searle graduated from the University of Cumbria gaining a first class BA(Hons) in Contemporary Applied Arts.
After exhibiting her degree collection at New Designers, Business Centre in London, Lizzie was asked to tour with the Embroiderers Guild. The Embroiderers Guild and Creative Exhibitions Ltd select the best creative talent emerging from all of the textile and applied arts degree courses, to exhibit with the Graduate Showcase in the Knitting and Stitching Show. Lizzie took part in all three shows which took place in London (Alexandra Palace), Dublin (RDS) and Harrogate (International Centre). She has also had her work published in Embroidery, Craft and Design and the Norfolk Magazines.
Lizzie combines many techniques to produce contemporary pieces of embroidery which use colour and humour. Colour and pattern are the inspiration behind all of her products, with fun being the leading factor.
'I love to create products and pictures that brighten your day.'