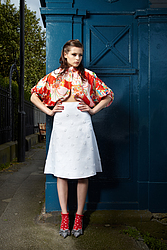 The inspiration for my label is my lifelong fascination for Japan and, in particular, an enduring love of Japanese kimonos and anything Geisha.
I came across some vintage kimono fabrics and instantly fell in love with them. I was inspired and wanted to make something beautiful from them so that women of today could get the opportunity to enjoy them and get a sense of the history of the women who wore them.
I named my label in memory of my much-missed grandmother, Lizzie Onions. Her surname was Onions but, bless her, she insisted on pronouncing it 'O'Nions'.
I make clothing from one-off pieces of vintage kimono fabric sourced from fabrics made between 1930 and 1970. Occasionally – material permitting – limited editions will be available.
If you choose to buy a piece you do so in the knowledge that you will own a unique one-off garment made with love and care by hand. It will be something for you to treasure.
Additionally, I have designed a small collection with a 1930s look with a modern twist to complement my one-off pieces
All my fabrics are 100% pure silks, cotton, and linen.