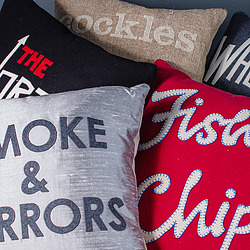 Thank you for visiting my shop here at NOTHS. I'm an artist and maker of contemporary appliqué textiles. All my cushions are handmade by me from my York sudio using the finest fabrics...British melton wool and hand-woven Indian silk from James Hare Ltd.
Appliqué is the technique of applying one fabric to the surface of another, each letter and motif is carefully cut out by hand and then sewn using a small zig-zag stitch which protects the edge of the fabric. Appliqué adds depth & texture to each design. My philosophy is to take the skills and traditions of the past and bring them up to date with contemporary, minimal and stylish design. My love of typography is interwoven with my love of the quirky side of British life...seaside holidays...iconic food...movies and culture.
My designs will add a personal and creative note to your interior design scheme. From minimal and modern, to traditional and vintage: whatever your style, my cushions will add that finishing touch to any home. Pefect for gifts and designed to last. All my designs are made to order.