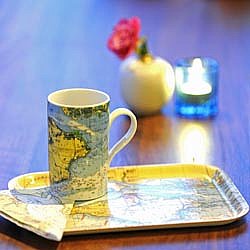 Living by the Seaside is more than a way of living, it is a way of life.
It's a moving canvas of all that is fresh and pure, the way nature intends. From the shores of an English island set back in time, to the clarity and beauty of the Swedish archipelagos or the white-washed and weather-boarded New England architecture.
The smell and the essence of the sea and its shoreline is never far away and can transform our homes into a tranquil and peaceful living space with light and colour being the natural ingredients.
Our fascination and passion for the sea has led us to explore the oceans and coastlines of the world, and, as a result, we have now brought together our own handpicked collection of pieces, some featuring our signature Chart designs which reflect the style and beauty of the coastline.
We hope you will feel inspired.
Welcome to Living by the Seaside.