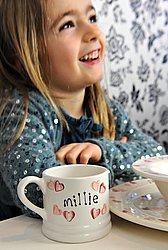 Little Willow Designs is a homegrown company, we hand-paint beautiful ceramics specialisng in children's products, wedding signature plates and commission work.
We've been painting and growing our business for the last seven years and we love what we do! We have a passion for our products and believe in continuously developing new ideas and offering exciting and unique gifts to our customers.
Quality is an essential part of our business ethos, and we take pride in what we do. We're happy to produce bespoke work for our customers to make your ceramics extra special.
Our range includes mini mugs, dinner sets, piggy banks, clocks and wedding plates, to name a few, all of which can be personalised and are exceptional gifts for new babies, Christenings, birthdays, weddings and anniversaries.