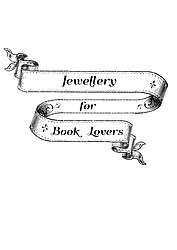 I am a Scottish Designer Maker although I have lived and worked in leafy Cheltenham, the heart of the Cotswolds in Gloucestershire for 9 years . I work in my studio with vintage textiles, paper and recycled leather transforming them into jewellery, stationery, gifts and home decor.
I have a Masters degree from the University of Aberdeen where I read English Literature and Film. Hence the love of books which started at a very young age I could read at three and would teach my cousins to read too. In a previous life I have been a wedding dress designer and an Interior Design consultant an Upholsterer and an English teacher ... all different hats but they have all fed into my designs which I love creating for people who adore books and the reading world.
I have created a jewellery line - Jewellery for book lovers - Using recycled leather and hand torn paper I have constructed miniature leather bound books that can be worn as jewellery; Necklaces, Cufflinks, Brooches.
Each piece of paper is cut from Fabriano Paper, folded into tiny pages called "signatures" in the bookbinding world. These are then bound in leather just like a real book and altered to be worn as jewellery.