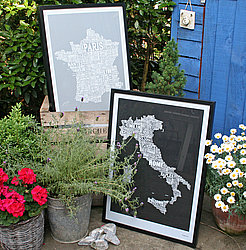 The Little Screen Print Company was formed in 2010 by Lyndon Cordery, a graphic designer with 30 years experience. After a mid-life career break travelling the world, Lyndon has combined his 3 loves of travel, maps and graphic design to create these intricate screen prints.
We offer standard and personalised maps made from type, and the best thing about these maps is that they can be personalised to suit any request.
A town that signifies a special moment in somebody's life can be highlighted using a larger font. It may be that hilltop hamlet in the south of France where you had a memorable holiday, or perhaps the small Tuscan village where you met your partner.
Maps evoke memories and remind people of good times.
The possibilities are endless, but all very special.