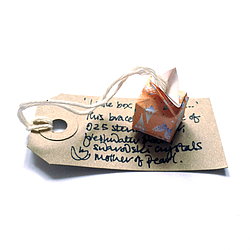 Fascination in tiny mother of pearl buttons created the brand name in 2007 by London based designer Janet Law.
Little Pearl Button's jewellery are all handmade using 925 sterling silver, semi-precious stones, crystals, freshwater pearls, miniature origami, quirky findings found from all over the world as well as a little pearl button wherever possible.
Using origami paper sourced from Japan, each piece is folded meticulously and as small as possible making each one original and limited. Practiced throughout her childhood, Janet aims to bring that wonderment of origami she felt as a child to each recipient of her pieces, whether encapsulated within miniature glass bottles or creating the curiosity of what could possibly be inside the miniature origami box...?
Having a background in fashion, Janet aims to expand and develop a lifestyle brand - with an emphasis on minimising waste using fabrics and leather from what would be considered wastage in the fashion industry to design and make beautiful products for the home and life.
Each piece is designed and made in London.