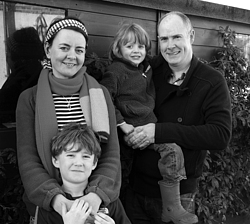 Little Mashers is a childrenswear company specialising in clothing and giftware for kids 0‐12 years. Originally inspired by our allotment, we created a series of characters to help our two small sons develop an interest in food. Utilising our design backgrounds in illustration and product design, the seeds of Little Mashers were sown and our first designs for kids tees were born.
Using influences such as vintage food advertising and packaging with a splash of modern, we are constantly working on new ideas that capture the fun spirit of childhood. Most of our designs favour both boys and girls, with colours that are vibrant and bold. Add lots of humour and it's a recipe that hopefully works.
From quirky giftware for babies, little chef sets, cards and our chalkboard range including our chalkboard t-shirt the "Chalk and Tees", Chalk and Talk a chalkboard book and our kids placemats.
All of our products are fairtrade or organic and hand screen printed in the UK.