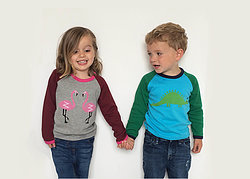 Little Dandies is a new and funky baby and kid's range featuring hand-drawn animals in bold, retro colours, all handprinted in the UK.
Products include babygrows, toddler and children's t shirts, cushions, prints and pyjamas, all able to be personalised with your own name.
We are two sisters who, after ten years of the London life moved back up north to our roots and founded Little Dandies. After having two baby boys each we became quickly disillusioned by the choice of babygrows out there. Sick of baby blue and naff motifs, we wanted to inject some colour and quirkiness into babygrows. Our love of vintage and hand-craft has lead us to designing this range of baby and kid's wear using the method of screen printing. We have combined quirky colours and funky animal prints to produce this unique and individual collection.
We hand print all of our products ourselves in the UK and try to use UK manufacturers when we can. This is very important to us as we try to be as environmentally friendly as possible.