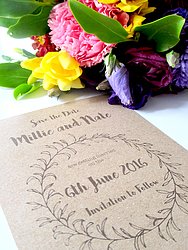 Congratulations you're getting married. HOW EXCITING!
At Fizzy Lemonade we love pretty paper packages tied up with string and our mission is to add the wow factor to your big day. Our designs are created in our Cotswold studio and everything is finished by hand ensuring the finest attention to detail.
If you are looking for gorgeous wedding stationery that will excite your guests and create a buzz about your wedding? Look no further, because we are here with a collection that includes pretty florals, vintage inspiraton, rustic countryside and just general loveliness.
We love details, ribbon, details, string and details........Our aim is to create little handmade paper parcels of delight for your very special day.
As The Wedding Industry Awards regional finalists in both the Newcomer and Stationery catergories for 2017, you can feel reassured that our work meets the highest standards.
We also offer a completey bespoke and unique design service, should you want something extra special. Please contact us to discuss your ideas.
We are so excited to work with you, come and look around x