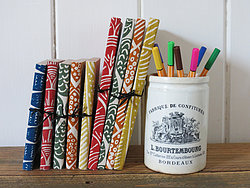 Lisa Durrant creates hand screen printed gifts and homewares, with an emphasis on using high quality sustainable materials such as organic cottons and recycled papers.
Her colourful designs are all originals and are produced by hand in her studio. Every process from the drawing, the production of the screens, to the mixing of the colours is all produced by the artist.
The pieces are all practical and made to be used, but with an extra colourful twist.
Because all of the pieces are hand made, special requests can be made, such as changes to sizes, or slightly different products and in some cases colour.