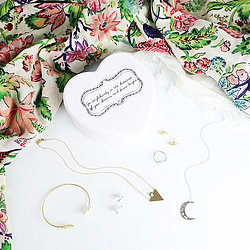 Fresh, exciting and on-trend; Lisa Angel Jewellery, based in sunny Norwich, offers an amazing selection of high-quality jewellery and scarves, that are great for every age, attitude and style.
Our irresistible ladies' fashion jewellery, which includes everything from bold statement necklaces to dainty friendship bracelets, is perfect for finishing off a look that's completely you, while our fabulous lightweight summer scarves add a pop of colour to any style.
We are so excited to reveal our brand new Jewellery Collections, 'Lisa Angel Delicate' and 'Lisa Angel Bold'; exclusive jewellery ranges, designed and chosen by our in-house creative team here in the UK. The 'Delicate' range comprises of teeny tiny pendants suspended from fine chains plated in fine silver and 18k gold, while the 'Bold' range boasts beaded embellishments, in this season's hottest shades, and gorgeous plated metals. Both collections symbolise Lisa's unique style and creativity, inspired by bloggers, street fashion, Japanese style and worldwide vintage finds.
If you're looking for an extra special piece for your loved ones, our range of handmade and personalised jewellery can't be missed. Our exclusive collection is beautifully hand-stamped, machine engraved and expertly finished by our professional jewellery making team here in the UK, and make wonderful, sentimental gifts for your loved ones.
Not only for the ladies'; we also offer a wide range of men's jewellery. Whether it's surf inspired beaded wrist-wear or tough leather bracelets and chunky metal chains you're after, we've got something for every man. And, to top things off most of our men's jewellery can be personalised especially for that special guy in your life, from Dads and brothers to boyfriends and husbands you're sure to find the most special gift.
Our priority is you, and we believe in keeping our lovely customers looking good and feeling great, which is why we create, make and choose only the finest jewellery. If, however, there is a problem we are happy to say we offer a no quibble 28 day return policy on all our products.