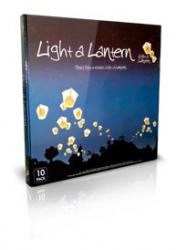 Light a Lantern is a online party store specialising in paper lanterns and other original party supplies for weddings, children parties, adult birthdays and other seasonal events.
Our product range includes a variety of flying, floating, hanging and floor paper lanterns for indoor and outdoor use. All paper lanterns supplied by Light a Lantern are manufactured to the highest standard, include detailed instructions, and are safe and easy to use.
What can be better than just balloons? Amongst other innovative products we supply Illoom Balloons that glow in the dark for up to 15 hours. Available in a number of great colours and themed prints, our LED balloons will light up the faces of both adults and children. Treat your little guests to pirate and football balloons or decorate a birthday party with our glowing "Happy Birthday" balloons.
The latest addition to our party decorations range are tissue paper pom poms and paper sunbursts, also called paper snowflakes. These simple, yet very elegant products are becoming increasingly popular as decorations at weddings. They look particularly great when suspended in marquees and halls, but can also be used outdoors depending on the weather. Tissue pom-poms can be used alone or in combination with our hanging lanterns. All our paper decorations are available in a variety of vibrant colours to match any colour scheme.