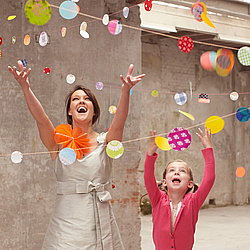 We, in Holland, believe that Life's a Party! To help you celebrate we have brought over products from two Top dutch Designers: ENGEL. and Jurianne Matter.
8 years ago, Sabien started making a bunting for her daughter in her kitchen and a new business was born, since then she has designed paper confetti bunting, pompoms, aprons and much more.
Jurianne Matter is the Inventor of beautiful Paperwork: Angels and Wishing Boats are her first 'paper'-designs, then followed Lanterns, Trees, Flowers, large Lanterns and now she launched A3 and A4 pop upposters, The beautiful Paperwork makes any occasion a special event or original gift.