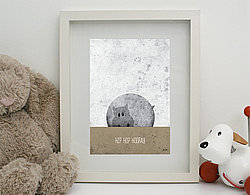 LeeLee illustrations are produced from my home studio. The characters are inspired from my imagination and my desire to create gorgeous little creatures with a touch of humour.
The prints look beautiful on any nursery wall, but look equally at home in any other room of the house due to the mass appeal of the humour within each piece. I am very proud of my creations and hope that you love them as much as I do.
I am constantly adding new members to the LeeLee family and hope to broaden my range into other markets very soon. If you have a special something in mind, I would be more than happy to create it for you, just contact me. Prints are sold without frames.
Enjoy LeeLee