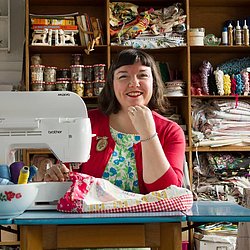 Leah Halliday lovingly creates and designs handmade gifts, homewares and accessories that combines her life long love of craft and all things vintage from her studio in rural South West of Scotland.
Leah finds herself inspired by vintage bits & pieces, forgotten fabrics and nostalgic images. Leah is a collector of all things vintage with a home filled with ceramics, linen, ornaments, tea cups, toys & books which all inspire her work.
Leah appreciates the beauty, added charm and history of vintage & upcycled materials. She loves nothing better than turning something old and forgotten into something beautiful & new.Many gifts are one-off pieces, limited editions or made to order.
As many of the gifts are handmade and made to order, they can be personalised with names, special messages, photographs and dates. We welcome commissions and can happily incorporate fabrics with special meaning within a design.