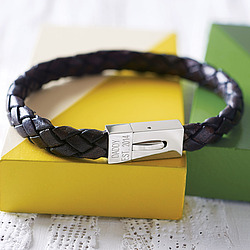 LB Man is a collection of wristwear and accessories that are personal, meaningful and beautiful.
Each piece is individually hand crafted to 'Tell Your Story' creating a unique item that captures a special moment in time and will be remembered forever. You may choose to add your children's names, exerpts of songs or poems or any other sentiment that has meaning to you.
All items will be beautifully wrapped in our signature boxes and we are happy to send directly to your gift recipient with a personal message.
We hope you enjoy creating your bespoke design as much as we'll enjoy making it for you.
Kirstie & Patroula
We're thrilled to have been voted as the winners of the Best Customer Service Award: notonthehighstreet.com Make Awards