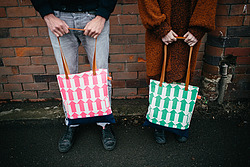 Laura Spring was established in late 2011 in Glasgow and with a name like this it might come as little surprise that Laura Spring's work is often about the weather. But to think that the greatest of British obsessions is where her work begins and ends would be to underestimate the intelligence of her approach and to gloss over the depth and ingenuity of her designs and products.
She is swiftly developing an eponymous label that combines striking prints with subject matter relating to the objects, garments and accessories they adorn. Meteorological symbols, stylised paraphernalia, and significant colour palates are evocatively used. Designs are applied to practical totes, covers for ipads and laptops, washbags and keyrings to prepare the conscientiously stylish for activities and missions that require practical-wear for all eventualities. There is nevertheless a subtlety to these graphic motifs that ensures that if you were to leave the house, say, with a windy weather tote on a fine sunny day you may just get away with it. The designs transcend their literal interpretation.
Laura is a graphic designer by training and has combined this specialism with an enthusiasm for both screen and digital printing to begin her company.