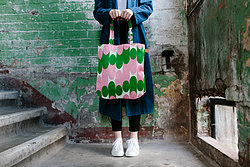 Laura Spring, originally from Staffordshire, is a textile designer/maker living and working in Glasgow creating bold graphic print designs that are transformed through screen and digital print into fashion accessories, homeware and stationery. She is a graduate of Glasgow School of Art where she was awarded a BA in graphic design in 2002.
With an enormous love for colour, print, pattern and process, Laura aims to create products and designs based around these ideals. Bold patterns mixed with bright colours transformed into beautifully crafted products underpin Laura's work.
Laura often looks to nature for inspiration. Initially her prints took their inspiration from the weather - more specifically meteorological symbols and latterly paraphernalia associated with recording the wind. In her collection, 'Natural Camouflage' Laura turned her attention to repeated animal patterns in nature, animal camouflage. She is interested in the geometric intricacies and delicately beautiful patterns that already exist in nature. These patterns that exist to perform a function. The beauty of the pattern itself is developed from its specific purpose in nature. Her Disruption range aims to reflect this idea.
Her latest print design 'Milkky' was inspired by a recent residency in Finland where Laura spent a month in the rural finnish countryside absorbing the Finnish way of life, their love of design and relationship to nature. During this time Laura was introduced to a finnish wooden skittle game that provided the inspiration for this new print, both in it's design and playful colourways.