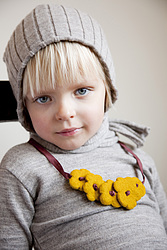 A new human life is so precious and so sensitive. All our products are carefully selected to wrap your children in the softest, safest and purest clothing imaginable.
Lana Bambini is a family-run business offering high quality clothing for children aged from 0-7years which is all made from lovely natural fibres such as organically produced merino wool, alpaca and silk. Marvels of nature's intelligence, these wonderful raw materials are made into healthy, sustainable clothing which will keep your little ones comfortable whilst being free of any allergenic or harmful residues.
Our merino wool and silk blends are particularly special, and many people are surprised to discover that due to the unique thermal-regulating properties of these materials, they can be used all year round keeping children warm in the winter and cool and comfortable in the summer.
We not only sell organic clothing, we know how to be free of contaminants. We deal only with suppliers who operate according to the strictest ethical and environmental criteria. It's important to us that the clothing we sell benefits people and communities whilst having a minimal environmental impact.
We hope you enjoy our lovely natural clothing and because everything is practical, robust and genuinely made to last, we hope you'll enjoy adding emotional value to it by passing it on to many other children.