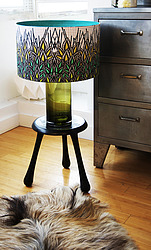 Lampara is an online boutique selling high quality handmade drum lampshades.
All of our designs are carefully selected and licensed by some of Britain's leading pattern, print and textile designers. We can offer you a selection of totally unique and contemporary designs from the best of British designers, and because we license each individual design, it will not be available from any other lampshade supplier.
We also specialize in extra-large XL ceiling and pendant shades of 70cm diameter or more, these look stunning in larger spaces such as restaurants, bars, hotels, galleries and in retail spaces.
All of our designers receive a good percentage of the sale of each lampshade, so you can be sure that when you choose a Lampara shade, you are not only choosing a design that is unavailable from any other lampshade supplier, but you are also supporting the UK design industry.