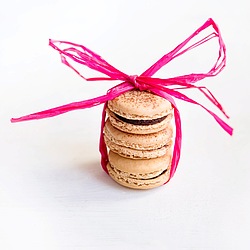 La Dinette was formed in November 2010 by the Le Cordon Bleu trained French chef Claire Jury. Previously selling in London Farmers Markets, Claire decided to move the business online once there was a patter of tiny feet in the house; and now thanks to notonthehighstreet.com, la Dinette's treats are available nationwide.
La Dinette believes in using traditional hand crafted methods and only the finest natural and organic ingredients in its macarons. No artificial colourings or preservatives are used and as a result our classic flavoured macarons are a beautiful pastel colour rather than the artificial bright colours that you find in shop bought macarons.
Delicate, with the perfect combination of bite, crunch and chew, our macarons are bursting with flavour and make an ideal gift for anyone who appreciates good food.
Cannelés, or Cannelés de Bordeaux to give them their full title, are a speciality from Bordeaux. Not to be mistaken for cannoli, cannelloni or cannellini, cannelés are unlike anything else! A bit crispy and caramelised on the outside, and soft and custardy in the middle with the taste of vanilla and a slight hint of rum, Cannelés have to be tried to be believed. They're sure to bring amazement and curiosity to anyone who has never tried them before, and delight to those who have.
At la Dinette we take our green credentials seriously. Not only is all of our packaging fully recyclable, but macarons use only egg whites, and cannelés use lots of egg yolk, so by ordering both you'll be cutting down on waste!
If you've any questions, please get in touch; we're here to help!
Claire